Heaven Is For Real
Heaven Is for Real is the true story of a four-year old son of a small town Nebraska pastor who experienced heaven during emergency surgery. He talked about looking down to see the doctor operating and his dad praying in the waiting room. The family didn't know what to believe but soon the evidence was clear.
In heaven, Colton met his miscarried sister whom no one ever had told him about and his great-grandfather who died 30 years before Colton was born. He shared impossible-to-know details about each. Colton went on to describe the horse that only Jesus could ride, about how "reaaally big" God and his chair are, and how the Holy Spirit "shoots down power" from heaven to help us.
Told by the Colton's father often in Colton's own words, the disarmingly simple message is that heaven is a real place, Jesus really loves children, and to be ready … there is a coming last battle.
Angel Unaware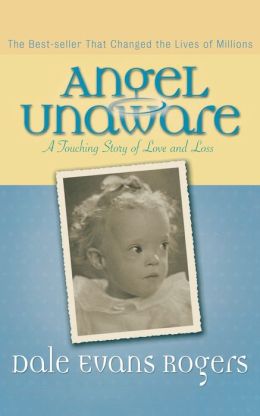 Entertainers Roy and Dale Evans Rogers were thrilled when their little daughter Robin was born. But their excitement turned to concern when they were informed that Robin was born with Down's Syndrome and advised to "put her away." The Rogers ignored such talk and instead kept Robin, and she graced their home for two and a half years. Though Robin's time on earth was short, she changed her parents' lives and even made life better for other children born with special needs in the years to come.
Angel Unaware is Robin's account of her life as she looks down from heaven. As she speaks to God about the mission of love she just completed on earth, the reader sees how she brought her parents closer to God and encouraged them to help other children in need.
Heaven by Randy Alcorn
As the years pass and we watch more and more of our family, friends and mentors pass away, it is only natural to ask questions about heaven. However, our understanding of heaven is often limited to a few half-forgotten Sunday school lessons and the insubstantial images provided by popular movies and T.V. Fortunately, in Heaven Randy Alcorn provides us with a thoroughly researched and biblically definitive description of heaven. As Alcorn addresses our most serious questions about heaven, including the nature of judgment, and answers a few of our less serious questions as well, including the accessibility of cafe mochas the sweet by and by, we will develop a deeper understanding of our eternal destination and will find the courage to strive for heaven while we're living on earth.
I'll hold You in heaven by Jack Hayford
For those who have lost a child to death, Jack Hayford provides compassionate answers to troubling questions such as, What happened to my baby after it died? Will I ever see my baby again—and will I recognize him? what happens if I've had an abortion? Does God have a reason for letting my child die? God's Word shines with hope in the dark night of human pain. God showed his tenderness when David lost the child he had with Bathsheba shortly after its birth. In his pain and grief, David spoke the word of revelation—reassuring word of God's truth—saying, "I will go to (my child) but he will not return to me" (2 Samuel 12:19-23). The freeing truth of the Word of God promises that, like David, you will hold your child again in heaven.
One Year Book of Hope
This book is for anyone who has been hurt in life and would benefit from a hope-filled daily companion. Critically acclaimed author Nancy Guthrie offers insightful daily reflections based on the Word of God to comfort, encourage, and uplift those who are feeling the aches of life–whether it's because of everyday disappointments or deep losses. Through a year's worth of thoughtful entries, the reader will learn how much God longs to lift us up, carry us through in times of difficulty and uncertainty, and give us true, lasting joy. Each daily step draws you closer to a God who truly cares and the hopeful life he wants you to enjoy. In short: Daily Scripture readings. Daily reflections for those who are experiencing any pain, disappointment, or grief. Daily opportunity to "dig deeper" into God's Word. Weekly questions for reflection, opportunities for further meditation, and directed prayer.